KELLY HANDSOME SUPPORTS TONTO DIKEH...FANS LAMPOON HIM TOO
''Nne, don't let any amount of scorn discourage you. This was just a trial, it only gets better, so you can do way better.'' The above statement was posted on Kelly Handsome's twitter yesterday while responding to the controversial singles the Nollywood actress, Tonto Dikeh dropped. Kelly, who was so sad that Nigerians are not appreciating the good work Tonto charged at her scorners that 'why is everyone insulting Toto Dikeh? Is there really any harm in trying? No! I blame her producer though, notwithstanding until you all drop your own song, shut up!''
Shortly after Kelly dropped this, people started responding and hitting him back with '' This irrelevant nigga always looking for means to remain relevant, and na people like u dey help am.'' Another one says '' Kelly Ugly is a bagger and hypocrite, also an attention seeker, as a ploy to resurrect his already decaying career. This was the same person that diced some of Nigeria's most talented music groups like MOHIT,and CHOC CITY ENTERTAINMENT, now encouraging a low life like himself. What won't someone hear in this country, you can always take side because you are another failed artist. After your Maga Don Pay song, what else? NOTHING... Ode boy, tshewww to mention but a few of the reactions his action generated.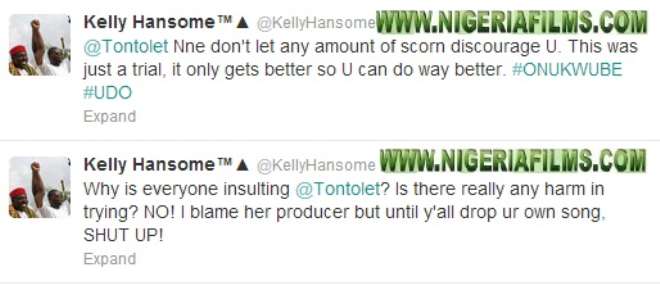 Click the link below to go to...
Music Is Finally Over For Tonto Dikeh ...Seyilaw Comically Lampoons Her [LISTEN]
Wizkid Thumbs Down Tonto Dike's Songs
Tonto Dikeh Replies Critics: I Achieved What I Wanted
MEMO:Jim Iyke Go For Anger Management Please!
Bimbo Akintola Shops For Lucky Man At Lagos Event After Marriage Tale?
IS THAT TB JOSHUA?! EARLY MINISTRY FOOTAGE RELEASED
Pint-Sized Actor, Pawpaw Lands N11m South African Deal
When Rukky Sanda Turned 'Notice Me' At Encomium Magazine's 'Green And White Groove' Party