TRAGEDY : REVERED FILMMAKER,HELEN UKPABIO'S 3 BROTHERS ALLEGEDLY MURDERED BY POLICE
There was shock and consternation when the news filtered out about how Nigeria's most successful female preacher,Lady Apostle(Mrs.) Helen Ukpabio loses four of her siblings –same father and same mother on Sunday,March 25,2012 in Mbente,Ini local government area of Akwa Ibom State.
As the story goes,the three brothers(Charles,Emmanuel and Joseph Akpabio) were allegedly shot by Nigerian police before their aged mother (Mrs. Etim Akpabio) and their younger sister,Elizabeth,upon hearing the sad news,slipped into coma and also died.
We learnt the three brothers were accused of armed robbery and kidnapping.
According to sources three brothers were allegedly first crippled with gun shots.And as they wailed and queried what they had done to deserve what they were doing to them,they were taken back to the village.
Now in their father's compound,their mother immediately took to crying upon seeing her son's condition-in their broken state and with broken legs.
They allegedly dragged them down and beside a nearby plaintain tree finished all of them,with their mother and some family members weeping,wailing and watching.
Findings revealed that the Police team was allegedly led by one Noel Nduka.
And since then,the family of the three brothers has been crying themselves hoarse,wanting to know what exactly their sons did as well as why they were not charged to any court to defend themselves before judgement was pronounced and they were immediately executed.
In a recent chat with newsmen,Helen Ukpabio said I have never seen anything like that in my life before.Four corpses,from one family.Ah ! Even if they had something against them,they should have taken them to court and not waste them like that.
I still can't believe my brothers and sister are no more.In Fact,I hardly sleep since the incident
On the family's next line of action,she said We will not follow them illegally.We will follow them legally.And that is why we are crying out,begging all conscionable people all over the world to hear us and ensure that justice is done on this issue.
Atim Akpabio-Mother of the three murdered men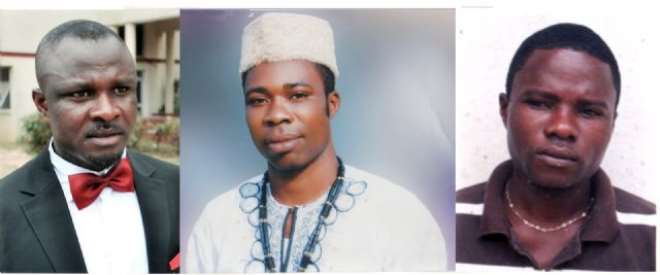 Charles Akpabio Joseph Akpabio Emmanuel Akpabio