I wasn't intimidated acting with Genevieve –Joseph Benjamin
Joseph Benjamin modelled for Fanta Chapman, a popular soft drink in the 90s and was a child actor in the popular TV series, Tales By Moonlight. He has hosted of Project Fame and is the lead actor in Mahmood Ali-Balogun's new film,Tango with Me. Senior Reporter, Ifeoma Meze, met him during the week.
How did you start?
I started out first with modelling - photography modelling and modelling for commercials, TV adverts and all. My very first job was for Fanta Chapman in the 90s. That was the first brand I modelled for. Then my first acting experience was in Tales By Moon light.
How old were you then?
I think I was in my teens because then there was this restriction. It is either a story had something to do with a child. I can remember I featured in two episodes of Tales by Moonlight. My first role was when I acted a palace guard and in the second story I was a homeless child. Those were my first experience acting. Then I was one of the extras for a movie in 1991 called Crossroads. That was the first movie I featured in. It had the likes of Ejike Asiegbu, the past president of Actors Guild of Nigeria; it had Victoria Inyama. I left acting for a while but I was still doing my photography modelling. I worked for Indomie, Maltina and a host of others. In 2003, I did a movie with Zeb Ejiro, Robert Peters and Kate Henshaw. The movie is Deadly Mission. A lot of people asked why I did not stay back in the movie industry but I knew within me that I had to strike a balance because I was in between a whole lot of stuff. The system then was not too encouraging so I just felt it was not time for me to strike that balance, so I left. In 2005, I came back. I did a couple of soaps. The major one was for Mnet called Edge of Paradise. From there, I did other soaps for Tajudeen Adepetu. Things started evolving and I did Super Story, which I was a doctor in. I basically started doing more of TV series. I also did some movies for Shan George. After that I was in a couple of other things like I was one of the contestants for Idols West Africa. I made it to Planet One where I was one of the top 60. I later got to know that it was my age that was the issue.
Were you too young or what?
No, I was too old for it. From Idols, things continued evolving for me. It was actually in 2008 that I decided to stay in the system. I told myself that I had a passion for showbiz and I had to go for it. I have a talent for every aspect of entertainment, from music, voice over, modelling, acting and it was in 2009 that Project Fame came my way and ushered in my presenting skills. Basically, that is how it has been for me.
Where did you school?
I did my primary school in Benue State, secondary in Lagos State and I have a diploma in computer literacy from an affiliate of University of Nigeria, Nsukka (UNN). From that point when I got that diploma, I started taking professional courses. Every time I enroll for professional courses, I find out that the passion for entertainment and showbiz always takes over. At some point, I told myself, enough of confusion; I decided to strike the balance that I have always looked forward to. I let go of every other thing and focused on what I am doing right now.
Do you have native names?
I am from Igala in Kogi State. I don't have any Igala name but I have an Igbo name because my mom is from the East. My names are Joseph Chibuzo Benjamin. So, Joseph Benjamin is not a stage name, it is my real name.
What other aspects of entertainment are you into?
I just knew I had a passion for show business. I knew I had a talent for all of these things. All entertainment aspects are intertwined. There is a connection in all entertainment aspects; it's just for you to understand if you have strong points for any of them. I tell people that all you have to do is understand the unique selling points in your career and build on it; trust me, you will fly. I am an MC for events but presenting is like the highest point in that aspect and I discovered I could do that very well too. People keep asking me about Project Fame. I auditioned alongside a lot of big names but I was not picked for the first season that Dare Art Alade hosted. I impressed them but I heard they were going to give it to Dare. It made sense because he was a product of Project Fame in South Africa. For the second season, I did not know they were shopping for a host. I just called the producer and he told me that I called at the right time, so I went for the audition again and I got it.
What drives your passion most?
Amazingly, music holds a very deep part of my heart. For someone like me to talk about music, you will know I am not talking about half measures like what most people do now. Your music is you, people should be able to feel me from the music I do. I know I have great passion for acting but music has a deep part of my heart. Acting and presenting comes to me naturally but for music, that is just Joseph.
Are you one of the many that fell in love with music by singing in a choir?
I am still in the choir. Music started for me when I was young. I remember back then, my elder brother and I played with music a lot. My brother loves music but he does not know how to sing. I discovered I could sing a long time ago.
What kind of music will you be going into?
My genre for music is soul and R&B. I think mostly gospel, and inspirational music.
Will it be right to say that Tango With Me is your biggest movie so far?
Yes, it is my biggest movie considering everything, the technicalities – bringing in an entire crew from Hollywood that went into that movie – it was a big one for me. It was my first time working with people from Hollywood. It was a big budget. More dialogue driven and very intimate, I will say yes, that it is my biggest movie project so far and it has been awesome for me.
What was it like being picked for the lead role?
There was no major audition for Tango With Me. They had it locked in that they would use Genevieve (Nnaji) and they had an idea of whom they wanted for the male character. I had a one-on-one chat with the crew. One of them knews me from Tinsel and Project Fame, and from there everything was set on course.
Since it is your biggest movie so far, was it very challenging?
It was, if you watch the movie you will find out that we had to really sink into those characters to deliver because there was a lot of emotion. Throughout the period of that movie, I was totally blank in my head. I had to take myself into a particular state in my mind to really get into that character.
How long did you shoot for?
We shot for like six weeks and everything was done on the Island. From what I hear from people who have seen the movie, they love it, meaning we did justice to it.
You are quite romantic in the movie, are you also like that naturally?
You are just trying to put me on the spot. I had to be romantic for the movie but it was a professional romance. This is letting out the gist about the movie. Go and watch the movie.
There is a rumour that a lot of guys were jealous that you had to act alongside Genevieve, did you get such comment?
You can say that again. All of the interviews I have been granting, guys have been asking how it felt kissing Genevieve, and I am like saying, is that all you saw in the thriller?
Let us put it this way, you said you never knew who you were going to act alongside with in the movie until you went to meet up with the crew and saw the chat, how did you feel knowing you were going to be in the movie with Genevieve?
I never knew I was going to be starring with her. I loved the story when I read it, it looked challenging and I asked whom I was going to play with and they said Genevieve, I was like wow, nice.
You had a crush on her?
I admired her talent not a crush. Well, crush, you can say that, every human has a crush. She was someone whose career I have admired and respected over the years because she is quite thorough and professional. I have followed her career and she is one of the very few who I like and applaud. When I first met her she was quite pleasant unlike how people think she is a snub. I also respect Stella Damasus, Kate Henshaw, Rita Domnic and Nse Ikpe Etim. People ask me if I felt intimidated working with Genevieve, trust me I was not intimidated working with Genevieve. We are both professionals and if Mamood Ali-Balogun didn't feel I was capable enough to do the job, I would not be called or even considered.
What don't people know about you?
I am a very reserved person. I am someone who likes my space. I am not a crowd kind of person except it has to do with a function or something. A lot of times people have termed me as an introvert or a snub but I am not. People who know me know that I am a very jovial and sociable person. I can crack you up but I am very private.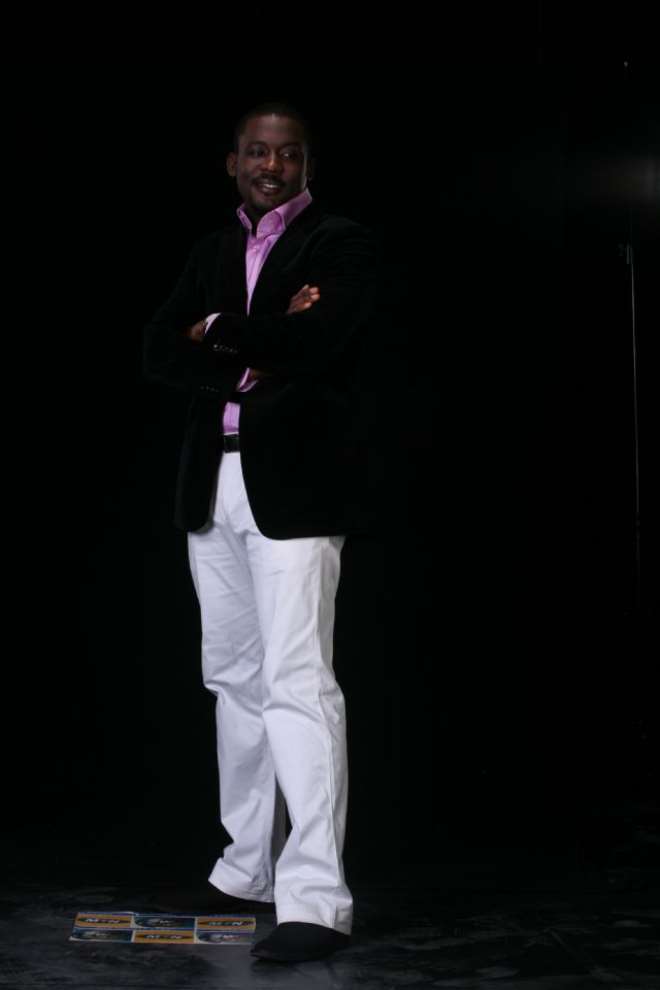 Joseph Benjamin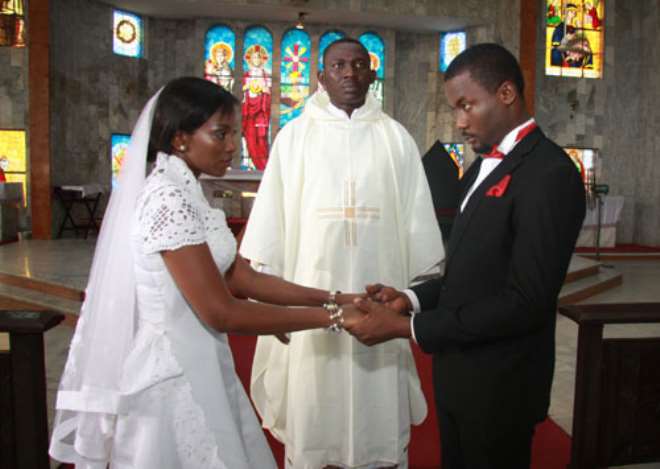 The-Wedding-scene-from-Tang