Check Out D'Banj Tux Suit To World Music Awards (Picture)
Known for his stylish and irresistible fashion dress sense, leading Nigerian artiste popularly known as D'banj is a top classy and trendy star in the Nigerian Entertainment Industry.
Always showcasing a note-worthy fashion statement anywhere he turns up, 'Bangalee' whose style has taken on a huge hit, stormed the World Music Awards held in Monaco in a tasteful black tuxedo and slim pants.
He styled his tux oufit with an inner white shirt, stunning eyewear, a pair of bling-studded shoes and designer wristwatches also known as his signature style, on his wrists.
However, the suit which is infused with a print fabric or Ankara as the pocket doesn't seem fashionably creative to some extent. As fashion critics are of the the reason that the print material would look more perfect if the pockets are double-breasted or is single-breasted. While others say the print fabric will also look more fabulously if sewn on the wrist of the suit.
D'banj is gradually missing it, most especially when he wears tux or suit.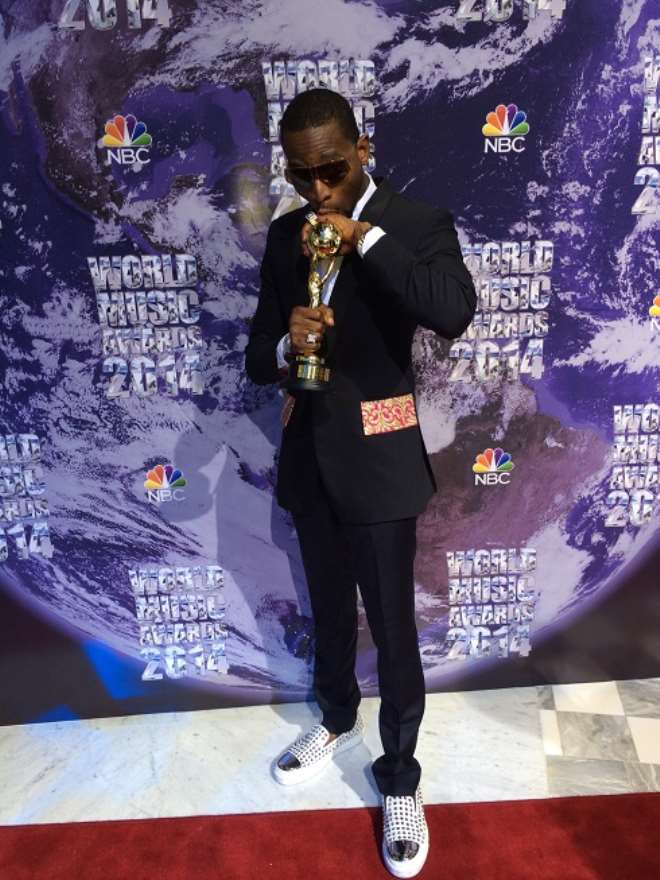 Click the link below to go to...
N15m Scam: Jim Iyke's Aged Parents Begged Me, Case Not Thrown Out Of Court--Habiba [Attached evidence]
Majek Fashek Signs N15million Recording Deal
I'd Get Married Again In December-Pastor Kris Okotie
Church Members Barred From Discussing Okotie's Marriage
Joke Silva, Olu Jacobs, Bimbo Akintola, Others Storm London Olympics Games For Team Nigeria
ZIK AND AWO, HEROES THAT FAIL US
A Message To All 'Upcoming' Artists
Child Abuse Mom Pours Hot Water On Step Son
N15m Scam: Jim Iyke's Aged Parents Begged Me, Case Not Thrown Out Of Court--Habiba [Attached evidence]