Yes! Jim Iyke is my boy -Emeka Ike
How does your wife react to all these?
Yes, she is used to it. She met me doing this job, though I have not by then become so big and she even fights me when I don't kiss well. She would be like "Ehn! So you're scared! She loves seeing good movies. She can sit in front of a TV 24hours. She encourages me a lot.
How did you meet your wife?
I met my wife when I stopped dating so many girls. I went to pastor Bimbo Odukoya's church. She said "young men save yourselves for marriage" and she went ahead to explain that in the midst of so many girl friends, it will be difficult to identify your wife because you are only living by the flesh and some of these girls would even never give those things that your wife would give and those words made sense to me. So that period I was shooting my film "7-12" in 1999. Later, I was editing 7-12 at Cine-craft when I saw this fine damsel walked pass through the window and I shouted at one of my guys to call the lady for me, but the stupid boy did not call her, after collecting my money, I stayed in their studio and nobody came, I came out in the evening but you know as a star I can't easily go to a woman because they will say "this thing wey you dey do for TV, so you dey do am for real life too". The guy I sent was scared to talk to her, the next day, the moment I saw her, you could imagine the way I rushed down from the studio and chatted her up.
She lived on that street then?
No, she was coming for a modeling job at Cine-craft then, the way I rushed down and funny enough I was editing my film and I had not taken my bath for like three days because the owner of the job was on my neck, it was huge money that time, I think it was about three million naira. So, the lady was with her sister, I went up to her and asked for some of her time, I told her everything about how I sent someone to call her for me and all that. The next day we met again I knew I was going to marry her. Emma Ike is now my lawfully wedded wife. She is half Dutch, half Isoko from Delta State.
We got married three months after we met. We have got three boys and one girl.
Michael is nine, Nicholas is three, Kelly is seven and the baby girl's name is Andrea Oluwakemi. She is some months old.
How was your growing up like?
I grew up in Lagos and it was so much fun. I learnt everything I needed to learn in Lagos.
You never travelled to the east?
No, we were born in Lagos here, my parents were like you know all these killing stuffs in Igbo villages, so my father never allowed the boys to go home but the girls were always going home. I spent all my Christmas holidays as a child at Odejaye street, in Ojuelegba, Lagos.
Which schools did you attend?
I did my primary at Ansar Ur Deen Primary School, Isolo. Then Ejigbo Community High School, School of Basic Studies Agidingbi opposite Cadbury, it's now a technical College. We were the first students; from there I went to Igbobi College for my A-levels, then to Yaba Tech for my OND and HND in Engineering.
Why the choice of Mechanical Engineering as a course?
While growing up, I loved arts but one of my teachers counseled me then that I should do science and they also advised my parents and they said ok! I would be a doctor. Because being a graduate with a good job, car and apartment has always been my desire from secondary school.
Have you ever been blackmailed by ladies?
No! But yes, something close to it because somebody tried to and I dared her and she ran away because I knew I didn't do it.
How did you come about the money you used to build this school?
When I was making my money, I was investing. I invested into shares then before the stock market crashed, again thank God for Emmalex. He advised me and I started buying, I bought plenty of those companies except Transcorp that ate my money. As I bought them, in less than a year and half, I had times ten turn over. I had several of such shares. And I was approaching banks to give me loans then but they said they can't take shares, imagine that, shares of several millions. It was in three banks they turned me down with my shares and I became so angry that I had to call my brokers to sell off the shares and it paid off. A week after I sold my shares the stock market crashed and I said Jesus! You love me most. So that's how I came about the money I used in building my school.
You won N7.5m prize money last year, in the Guilder Ultimate Search Celebrity Showdown; when you entered the set, did it ever occur to
you that you were going to win?
I knew I had a chance, but kept saying that I am not here to win but to have fun. It was a way of making people to remove witch eye on me. My only challenge there was Obesere Abass.
Aside the N7.5m was there other prizes like car and other goodies?
Did I even get the whole 7.5 million Naira complete?
So what happened to the money?
Ope Banwo said he was my agent that he needed a percentage of my money. I didn't want to make an issue out of it, I did not want to give Gulder Ultimate Show a bad impression, so I kept quiet and paid him off.
He took one million naira out of my money. If I had won a car, maybe I would have sold the car and give him one tyre or split the money into two, because there was so many troubles coming my way. If I had said no to Banwo, they would say "Emeka Ike don go GUS go make trouble there again."
The message would be everywhere, so I just told myself the money is nothing because it could have been anybody else. So, I just gave him the one million naira, maybe its part of what he used to shoot Dagrin's "Ghetto Dream movie" and that would be my contribution to Dagrin.
How about the rumour between you and Muma Gee, did any romance happen between you people on set?
It was a planned deal, nothing happened. We never even pecked each other. We discussed it in the bus before we got down on the ground at the camp. She called me and said "Bros, make we form this now and I said it made sense but we had to call my wife and she agreed that there is no reality show without a drama, so she knew everything that was happening, so when Chioma was raving hell my wife was laughing.
Chioma abused you heavily while the programme lasted: why the hatred?
You noticed, I never said anything back to her.
It made me feel so good at least I knew who she was. During the shoot of "Disguise" I and the producer were the ones that went to her father and her mother to beg them to release her, quote me, I begged her mother in her parlour. They said no, na church Chioma wan go, na church make she dey go, I said mama, my papa sef get church next to my compound, but this thing now don dey help my family. Maybe na the way God don take answer your prayer be dis thing wey Chioma wan do now. And the father said "My son take Chioma, take am dey go" so I dragged Chioma, me and Kingsley, go do 'Disguise.' So na dat same Chioma dey for national TV dey call me names and you want me Emeka Ike to respond. No, now!
Has she apologised?
I don't need it.
You and Jim are now on talking terms?
Yes, Jim Iyke is my boy I don't have any problem with him from beginning but he just didn't know it. I have not seen him in a while, if I see him I am going to say hey how are doing? It's nothing it was the press that even made it too big. I don't have issues with Jim.
But if you take my papa land, or my land or wife or kill my child, I would follow you die!
Let's talk about close shaves?
I have had three close shaves. The first one was when I almost fell off the bridge; my car was half way in between Ogudu bridge. It was in the evening; I was trying to make a turn to the right if you are coming from Gbagada to Ogudu that was in 2005. My second experience was in 2007, I had an accident with my Infinity car. I ran into a NEPA pole, it broke like into five places, the car ran into the fence of a building around; I was bringing down the building until I got to the gate pillar and that was what eventually stopped the car. If you see that car, you are going to say how many people died in that car?
I still came out again, staggered into the electricity, four wires were in my hands and till today, I am still asking myself who are you? That was my closest share with death.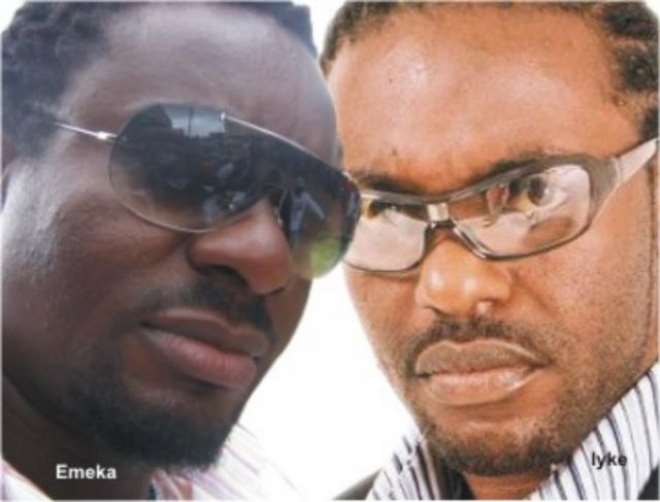 EMEKA IKE AND JIM IYKE