Shade Okoya Abandons Father's House ...as one storey building rots away.
Gone and forgotten appears the case of the father of Shade, the fashion pace setter wife of billionaire business mogul, Alhaji Akanni Okoya and his property.
The father is dead and his property is currently rotting away.
The property is identified as a one story building located around Oke Afa round about, Isolo, Lagos.
It is directly beside a huge refuse dump that mars the environment in all ways possible.
The border between the house and the refuse dump is such that resident of the place suffers from the offensive odor from the waste ground twenty four hours a day- and the dump cuts them off from civilization from the other side.
Shade's father was a resident of the place before he died.
Sources claim the environment is a replica of what the billionaire wife's father enjoyed before he passed on.
There were rumors at that time that environmental factors contributed to his demise.
The coatings on the house, the structure, convinience facilities and related apparatus inside have apparently seen better days.

Information made available to us revealed that Shade turned her back on this part of her background when she married billionaire Rasaq Okoya.

Sources attribute this development to yet to be clarified family diagreement.

Aside her late father and his property- unconfirmed sources divulged that two of Shade's sisters are also suffering the same fate.

Their fate is said to have root in oppositios to Shade marrying Okoya.

It is however instructive to note that Shade stayed with her mother in Ojuelegba. Lagos before she married Alhaji Okoya.

The romance between her parent was said to be at the twilight at that point in time.

Today she has gone all out to transform her mother into a major distributor of Eleganza products and influnce in her forte- while her fathers legacy- the property- rots away.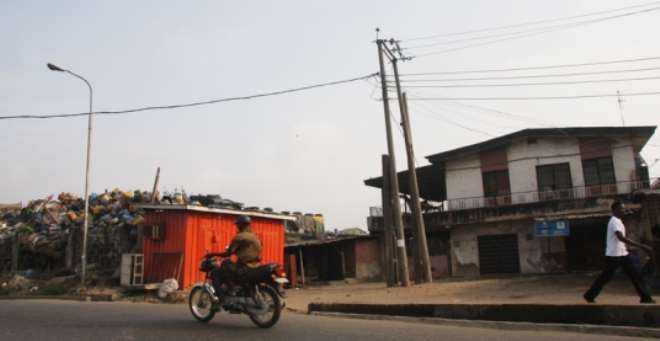 Shade father's-house