Actress, Bukky Fagbuyi Set to Begin Free Health Care for Nollywood Legends
We watch Nollywood movies and get excited that we ask for more but we fail to realize that these celebs also go through a lot privately that they can't come out to share in public.
Some of these celebs do not even have shoulders to cry on yet try to keep their fans entertained despite what they might possibly be going through while some have even passed away and not ive to share their challenges.
With various sad news of death and health challenges, Nollywood actress, Bukky Fagbuyi, has taken it upon herself in setting up the responsibility of caring for legends in Nollywood so they could still be fit rather than going down due to one sickness or the other that could have been averted.
"Come join us this 31st May, 2017. From @bukkyfagbuyi - Once upon a time I was a child and I was looking up to not only my parents but also adults to nurture and care for me, I am now an adult and I see that those adults that cared for me including my parents are now old and they need to be taken care of. Hmmmmm as far as am concerned it is the duty of every able adults to take care of children because we were once in that category and of course the old because we will still join that category and that is why I have decided to take up this course HOLISTIC HEALTH FOR THE OLD AND CHILDREN because I believe so much in it.
"But guess what I am starting from Nollywood because ILE LATIN KESO RODE (CHARITY BEGINS AT HOME) ....... that's why the maiden edition is called HOLISTIC HEALTH FOR LEGENDS AND ICONS IN NOLLYWOOD which is going to be based on High blood pressure and diabetes for now. There will be health talks on nutrition, prevention of high blood pressure and diabetes, management of high blood pressure and diabetes. Spignanometers and glucometers will be distributed for free. #daughterofdmosthighGod ."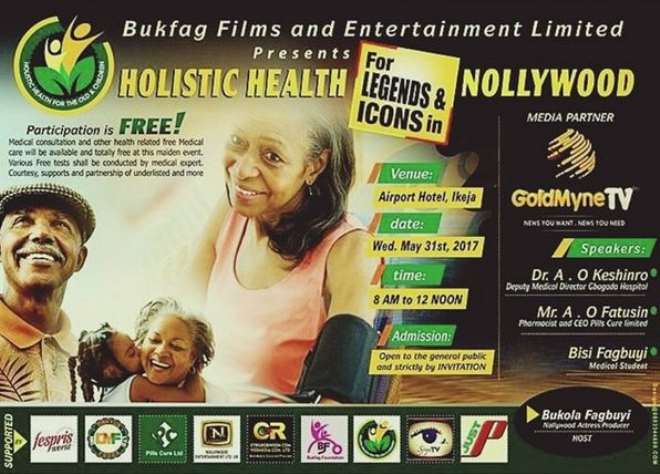 Add Your Comment

39 minutes ago
Wow, Nollywood actress, Monalisa Chinda, is just so adorable without makeup and you will agree that God really took time to mold her. The actress recently stepped out without makeup as she head for the super market where she prefers to buy her coo

45 minutes ago
[B]Ghanaian actress, Yvonne Nelson, is enjoying her new found love life with her British photographer lover & baby Daddy.[/B] The actress has kept his identity off social media until recently when the photos of her pregnancy emerged online. Yvo

3 hours ago
Nollywood actress, Regina Daniels is currently facing part of the hot seat that comes with fame and at this point, her strength is being tested. The actress has been in the news of recent regarding a scam on helping people get movie roles but all

3 hours ago
Singer, Oritsefemi, is not joking when he said his wedding which will be coming up on Saturday, 25th, 2017, is going to be like a carnival because he is ready for it. The singer is set to marry his long-time lover after they had their court weddin

3 hours ago
Popular Yoruba actress, Fausat Abeni Balogun, sure had a nice time during the just held thanksgiving that took place in the US. The actress saw it as a day she could just have the best fun by requesting for a huge chicken to compliment the day.